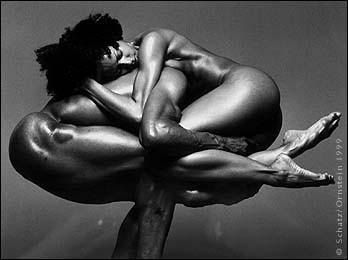 You're born, you grow up, become a teenager, avoid any sexual overtures from boys and men, you complete school, you find a job and then you get married while you're still a virgin. These are some of the expectations Ghanaian society has of its girls and women. Maybe it is these expectations that make parents think they don't need to talk about sex. Afterall, if you're not going to be doing it till you're married, why do you need a talk at fifteen? Mine certainly never talked about it with me. Did yours? It'd be interesting to see how many of us reading this actually got a sex-talk? The most I got was a brief (less than 5 minute) talk entreating me to avoid messing around with other girls before I went off to my all girls high school. hehe. Even that came from my aunt (Bless her!) and not my parents. That was all fine, until the hormones started raging and the boys started coming to my house. Then my mother expressed her worry that too many different boys were coming to our house. Still, no sex talk. The churches and schools helped to put me off sex; I saw too many HIV warnings, and heard sermons about fornication that managed to make me feel guilty even though I wasn't having sex. In many people's minds, mine inclusive, the sex talk is to educate the individual about sex in order to help them make an informed decision about it and to practice it safely if they choose to do it. But that's not really the focus of this entry. I'm more interested in how Ghanaians (particularly the women) are being prepared to have sex, and maximize their enjoyment of it.
I didn't know girls could masturbate till I was over twenty and out of Ghana. I never even chanced upon the idea that sex was something you did for your own pleasure as opposed to it being something you did to please a guy who asked. Now I was quite the curious woman, and so if I didn't know this, chances are that majority of Ghanaian women don't know either. Do Ghanaian women think of sex as something they need to be good at in order to have a successful marriage in the same way that many of them think they need to know how to cook well? The tricky thing is that no one teaches you how to have sex but somehow you're supposed to figure it all out after you're married. I'm not married and I'm not making excuses for cheating spouses, but it is possible that the woman who never learns to have sex, who does it only to please her husband, and to procreate, is the same one who will stop having sex with her man after her children are born. If a woman merely tolerates sex, she won't initiate, she won't actively participate, she won't be appealing to her husband. So what we end up with is men like my forty-year old friend who is sex-starved, is trying not to cheat, but uh, at some point a guy has needs and will get it elsewhere if the opportunity presents itself. Even though more Ghanaian women could keep their spouses faithful if they showed a little enthusiasm, that isn't why I'm interested in seeing a Ghana where women are sexually liberated. I'm interested in seeing women having conversations about sex, and sharing sex-tips because they want to enjoy it. Hint: Someone should please have a party for married women (and all who are interested) to come and talk about sex, share tips, buy sex-toys, giggle and just generally have a good time and then go home, and try their newly discovered techniques. If I knew this was in store, I'd be rushing to the altar.
I hope readers will share how they know everything they know about sex. Maybe it's not something your mother can teach you, though I really don't see why not. I'll begin with how I know what I know. Here goes: I'm a big believer in the power of self-developed curriculum on sexual education, ya know, googling things like
"how to make your man love you forever...in bed"
. Check out the link for all the juicy tips aimed at keeping men chained to women forever. I used to buy cosmo, a long time ago, before my spiritual evolution and certainly before I discovered high literature. Hey, I'm not saying I didn't learn a trick or two from Cosmo, but much of my real education came from Google. No disrespect to
uncle Friedman
, but I don't need him to tell me that Google is one of the greatest inventions of our time because it was Google, not cosmo that taught me nearly everything I know about sex, and trust me, it's a whole lot. Yes, I'm bragging. People get advanced degrees and brag about knowing things that no one else cares about like uh quantum dots or hadrons, reconstruction algorithms, Yeats, how to write in the style of Rumi (ok, I made this one up but you get the idea). If you've invested time to learn about things we all dream of like hot sex, in my book, that should earn you some bragging rights.
I've been talking a lot about women but there's one thing I'd like to know concerning the men. So many Ghanaian men think/claim to be good in bed. Somebody's got to be lying right? Or maybe we should ask the Ghanaian women. Is your average Ghanaian man any good? Do they take the time to learn? Please correct me if I'm wrong but I suspect so many people are going around thinking they're so good, and not even taking the time to learn, and ask what they could improve when in reality, they're mediocre. If they're really as good as they claim, how did they learn? By googling like me or by experimenting with women from other countries (since Ghanaian women pretend they're not having sex) or were they just born with the skill? hehe. Of course all you can learn from Google is the theory and then you have to practice to really learn but assuming we're going to put off sex till marriage, at least we would walk into marriage bursting to try out all these nifty techniques. I am alarmed to even think how I would have learned anything if I'd grown up in my parents' time when there was no Google. Sure, there are books, but I'm probably not the only one who owns "The Complete Kama Sutra" and has never opened it. Google is just more accessible.
Can't wait to read your stories! Sex is such a fun topic. It's a shame we don't talk about it more often. Spiiiiiiiiiiiiiiiilllll!
ps: Notice the sheer irony of my giving Google credit when all it does is direct me to sites like ivillage. I need to stop saying I found information on google when the more accurate thing to say is that I found it on sites that google directed me to.